The Events Calendar includes not just NATHPO events but also trainings, exhibits, shows, conferences, and consultations put on by our community partners and are listed solely to provide information and are not endorsed by NATHPO.
Please feel free to submit an event using the (+); as soon as it is approved, it will appear on the calendar.
Tribal Climate & Health Adaptation Summit: Getting to the Heart of Climate Vulnerability
7/13/2022 - 7/14/2022
Description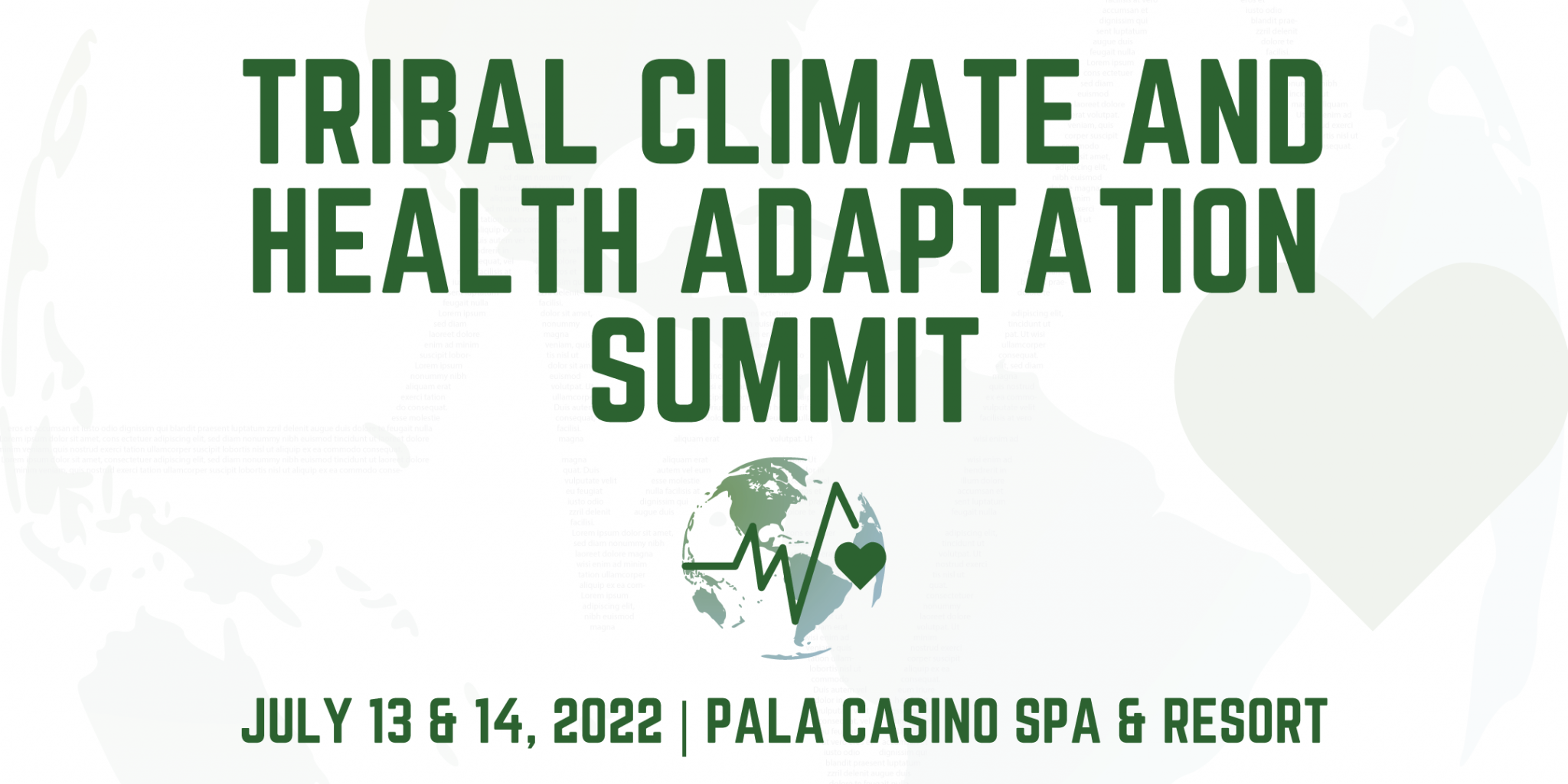 Space is limited!
Apply here: TC&HA Summit I – Pala Environmental Department (palatribe.com)
Applications
Space is available to up to 50 Tribal-serving professionals* from across the US at no cost. Submit an application to let us know more about you and why you wish to attend. Applications will be reviewed on a rolling basis until June 30. Depending on the level of interest, some applicants may be placed on a waiting list.
*Those offering products, consulting, or other for-profit services are not considered to be Tribal-serving professionals for the purposes of this summit.
Getting to the Heart of Climate Vulnerability
Tribes across the US are very attuned to the cascading and interconnected impacts of climate change on their lands and health, from changing water patterns to more intense and frequent wildfires. As costs continue to stack up in dollars, lives, damage to cultural and natural resources, and other losses, the urgency to prepare for these impacts is greater than ever. These heartbreaking losses are affecting the wellbeing of Tribal citizens, and also weighing heavily on the overwhelmed professionals responsible for protecting them. The first step in protecting Tribal health and wellbeing from the impacts of climate change is often to conduct a vulnerability assessment to identify the community's biggest risks and concerns. However, this step can be a big obstacle for under-resourced communities, particularly given the time-consuming nature of fact-finding and community engagement. Those who have assessed their vulnerability may not have had the resources to look deeper into vulnerabilities associated with health and wellbeing.
Why attend?
This two-day, in-person training will help arm up to 50 Tribal-serving professionals with the knowledge and skills needed to get to the heart of the unique climate and health vulnerabilities of the Tribes they serve, while also offering space for participants to attend to their own hearts through personal reflection and peer connection. The interactive training format will feature expert speakers, facilitated discussions, and hands-on learning activities to help deepen understanding of the effects of climate change on Tribal health and wellbeing. The summit will help practitioners ready their hearts and minds to develop well-informed vulnerability assessments that best reflect their community's concerns, culture, and aspirations and lead to the most meaningful adaptation decisions.
Objectives
Attendees will:
Learn the steps of conducting vulnerability assessments that include a focus on health and wellbeing
Build knowledge of best practices, options, and examples related to gathering and weaving together data, traditional knowledge, and community perspectives, managing interdepartmental coordination, and reporting findings
Deepen their understanding of the linkages between health and climate change, including emerging research topics
Participate in peer discussions to exchange knowledge and experiences
Engage in guided sessions that promote personal connection and reflections
Summit
Dates: Wednesday, July 13, 2022, and Thursday, July 14, 2022
Location: Pala Casino & Spa Resort
Title: Tribal Climate and Health Adaptation Summit
Theme: Getting to the heart of climate vulnerability
Categories
Conference
Summit