OELA Native American Heritage Month Authors Series
Tuesday, November 30, 2021 (3:00 PM - 5:00 PM) (EST)
Description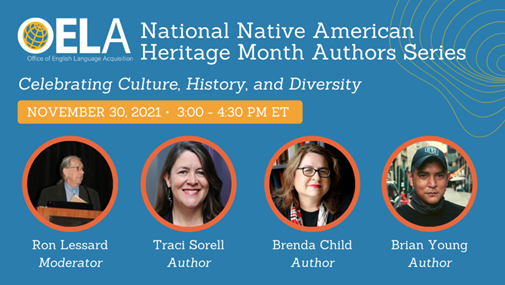 The Office of English Language Acquisition (OELA) is celebrating National Native American Heritage Month! OELA is hosting a panel discussion and audience Q&A with award-winning authors whose work highlights the diversity of heroes and heroines within the Native American community. Join OELA on November 30 at 3:00 pm ET for an engaging conversation featuring:
Moderator: Ron Lessard
Panelists: Traci Sorell, Brenda Child, Brian Young
Tuesday, November 30, 2021 (3:00 PM - 5:00 PM) (EST)
November 30 at 3:00 pm ET
The Community Calendar includes not just NATHPO events but also events, trainings, exhibits, shows, and conferences put on by our community partners. Please feel free to submit an event using the + on the main Community Event Calendar; as soon as it is approved, it will appear on our calendar below.