The Events Calendar includes not just NATHPO events but also trainings, exhibits, shows, conferences, and consultations put on by our community partners and are listed solely to provide information and are not endorsed by NATHPO.
Please feel free to submit an event using the (+); as soon as it is approved, it will appear on the calendar.
25th Annual American Indian Tourism Conference
10/2/2023 - 10/5/2023
Description

Celebrating its 25th Anniversary, the Annual American Indian Tourism Conference (AITC) is scheduled for October 2-5, 2023, at the Choctaw Casino and Resort in Durant, Oklahoma. The AITC is the only national conference dedicated to growing travel and tourism in America's indigenous communities. The conference attracts more than 300 attendees annually, who attend networking opportunities, high-level keynote sessions and informative breakout sessions led by leading hospitality industry experts.
Our 25th Anniversary theme, "We are Still Here!" speaks to the journey that the nation's 574 federally-recognized Tribes and Native Hawaiians have endured on the lands and waters they and their ancestors have called home for thousands of years. Much like these Tribes, AIANTA has persevered and met the challenges head on, emerging yet stronger and more determined than ever to ensure that our people and our stories are heard around the globe. AIANTA, started with an idea, that our communities could be part of one of the largest industries in the world and 25 years later, We are Still Here, setting the table for the next 25 years and beyond!

The AITC is perfect for tribal leaders, tribal entrepreneurs and staff working in tourism, museums, fish and wildlife, parks and recreation, camping and RV Parks, planning and economic development, workforce development, cultural preservation, transportation, hotels and casinos, arts programs, gift shops and youth programs. It also provides value to tour operators, travel agents and media interested in learning more about Indian Country Tourism. Artisans and Exhibitors interested in networking with these partners should secure an exhibitor booth to share their art, products and services.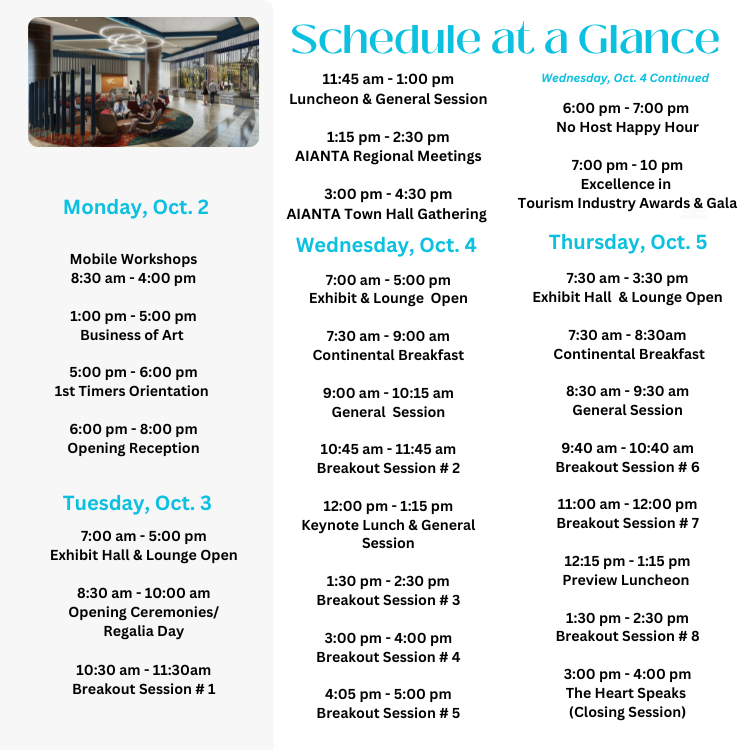 Registration Fees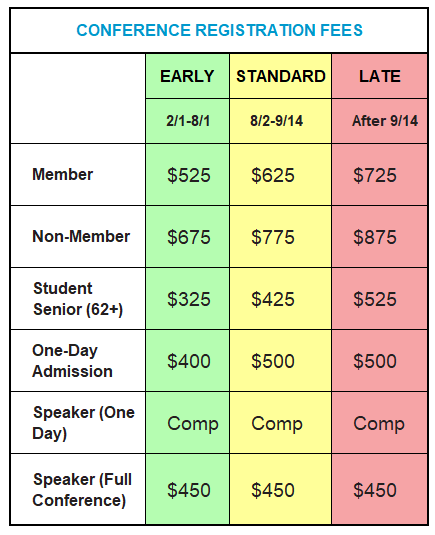 Registration Fee includes:
Access to all conference activities, excluding Mobile Workshops

Meals:

one meal package per conference registration to include: one plated breakfast, Two continental breakfasts, daily refreshment breaks, three lunches, opening reception, and the gala banquet with a cash bar.

Access to the "Business of Art Meeting"

Admission to Exhibitor Hall
Guest Meal Packages are available and sold separately.
For more detailed information and registration link