US/ICOMOS: 2021 Virtual International Symposium and Conference: Preserving World Heritage in a Changing Climate
Thursday, October 28, 2021 2:00 PM - Friday, October 29, 2021 6:00 PM (EDT)
Description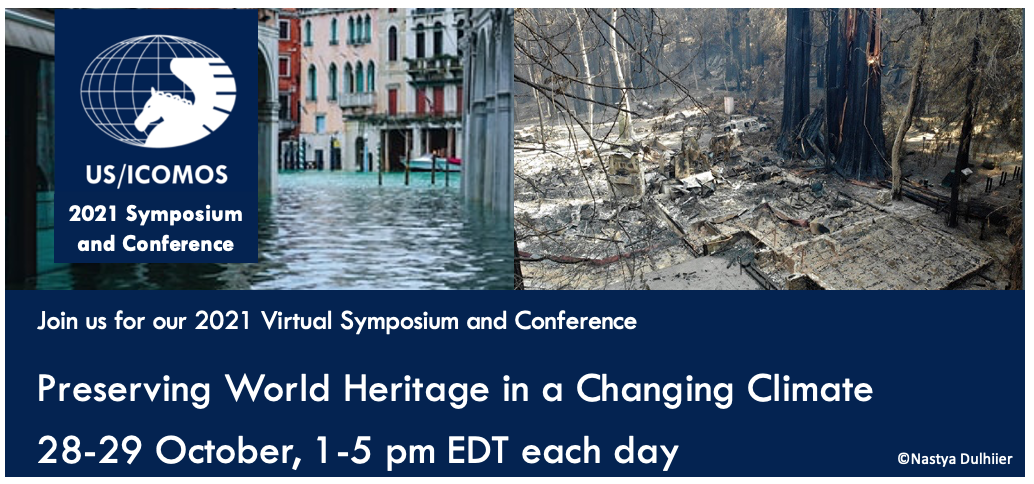 28-29 October, 1-5 pm EDT each day
Register now and join us online to learn about and discuss the pressing issue of climate change at cultural heritage sites. Each day will feature a keynote presentation followed by thematic presentations and discussions.
Pricing
Young Professional Member (For 2021 and 2022 US/ICOMOS Young Professional Members): Free
Young Professional Non-Member (For non-members under the age of 30): $40.00
Member (For 2021 and 2022 US/ICOMOS Members): $50.00
Non-Member (For all other non-members): $100.00
New Member 2022 (If you join as a new member for 2022, your event registration is free. You must pay your membership dues before the event.): Free
Thursday, October 28, 2021 2:00 PM - Friday, October 29, 2021 6:00 PM (EDT)
28-29 October, 1-5 pm EDT each day
The Community Calendar includes not just NATHPO events but also events, trainings, exhibits, shows, and conferences put on by our community partners. Please feel free to submit an event using the + on the main Community Event Calendar; as soon as it is approved, it will appear on our calendar below.