ACHP: 55th anniversary of the signing of the National Historic Preservation Act of 1966 (NHPA)
Friday, October 15, 2021 (1:00 PM - 2:00 PM) (EDT)
Description
Friday, October 15, 2021, preservationists around the world will celebrate the 55th anniversary of the signing of the National Historic Preservation Act of 1966 (NHPA), the statute that created the Advisory Council on Historic Preservation. To commemorate the occasion, the ACHP gathered some of the leading experts in federal historic preservation to discuss the current status of the NHPA and work that is needed to take historic preservation into the future.
Join us at 12 p.m. EDT on Friday, October 15 on the ACHP YouTube Channel for the premiere of a special edition of the ACHP podcast, Preservation Perspectives where ACHP Expert Member Luke Nichter talks with Robert G. Stanton, former ACHP Expert Member and National Park Service Director; Reno Keoni Franklin, ACHP Indian Tribe Member and Chairman Emeritus of the Kashia Band of Pomo Indians, and Julianne Polanco, California State Historic Preservation Officer.
Some of the topics they discuss are inclusivity in historic preservation, early coordination for Section 106 reviews,, more Native American representation on the ACHP, and much more.
The premiere will take place here: https://www.youtube.com/watch?v=06GcAjmENpY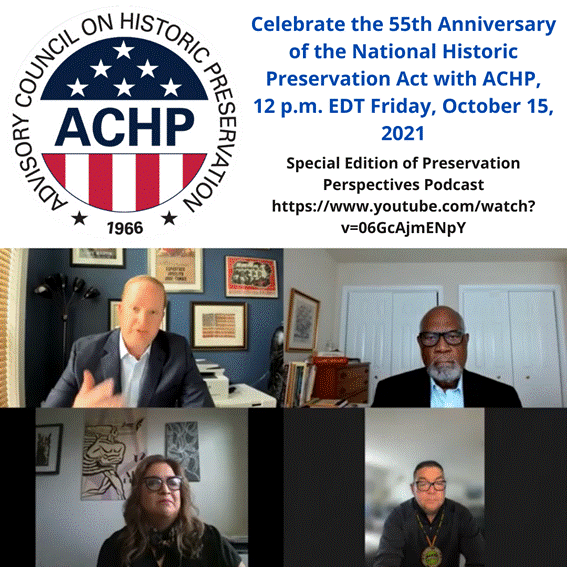 Friday, October 15, 2021 (1:00 PM - 2:00 PM) (EDT)
Friday, October 15, 2021 at 12 p.m. EDT
The Community Calendar includes not just NATHPO events but also events, trainings, exhibits, shows, and conferences put on by our community partners. Please feel free to submit an event using the + on the main Community Event Calendar; as soon as it is approved, it will appear on our calendar below.